Results and Display Tab
SearchStudio > Search Experience > Results Configuration > Results and Display Tab
---
The Results and Display Tab of SearchStudio's Results Configuration screen lets you configure two important features:
It lets you choose which data fields Solr will return in the search results. (To choose which fields will be used to calculate the relevancy score, see the Relevance Modeling > Model Details > Search Fields Tab.)
It also lets you assign returned field values to specific display areas on the search-results "card." (To change the layout of the card itself, see the Theme Editor.)
Select a field from the Return Field droplist to add it to the display of search results. The Label is a human-friendly label to display beside the field value. Click the (X) button on the right to remove it. Note that you can also select a field and use the (+) and (-) buttons to position it in the results list.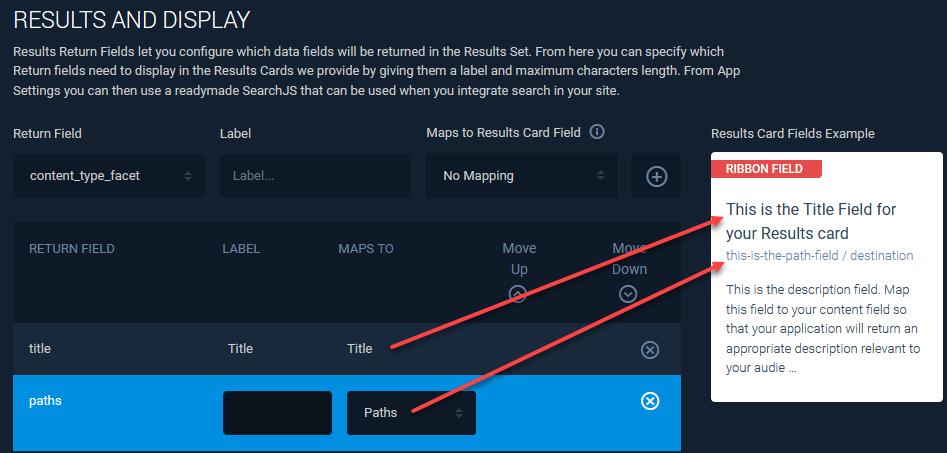 You may also map the field value into a pre-formatted position on the search-results card. For instance, you could assign the document type to the "Ribbon" field to display it in a label at the top of the card.

Scroll down a little to see the spin button that lets us adjust the number of result items to display in each page of the output.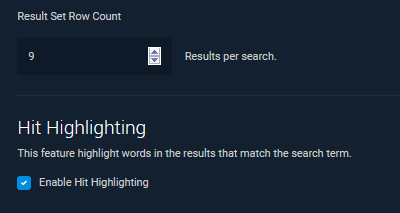 Finally, there is a Hit Highlighting checkbox. If checked, matching keywords will be <em>highlighted</em> whenever they appear in a search result.