Welcome to SearchStax Managed Solr. SearchStax Managed Solr is a fully-managed hosted Solr SaaS solution that automates, manages and scales Solr infrastructure.
Here is a short glossary to help you understand the index components of a SearchStax Solr Cloud deployment.
Note: In Solr terminology, there is a sharp distinction between the logical parts of an index (collections, shards) and the physical manifestations of those parts (cores, replicas). In this diagram, the "logical" concepts are dashed/transparent, while the "physical" items are solid.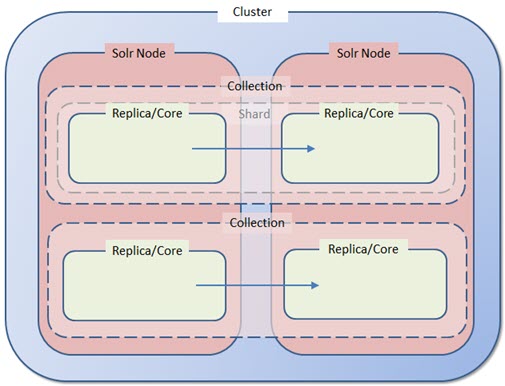 Cluster:
A SearchStax production deployment is usually a "Nextgen" cluster of two Solr nodes coordinated by a Zookeeper ensemble (not shown). Zookeeper ensures that changes to config files and updates to indexes are automatically distributed across the nodes of the cluster.
Node:
A single instance of Solr. In SearchStax deployments, one node corresponds to one physical server.

Best Practice: Use at least two nodes!

A single-node system cannot provide high-availability/fault-tolerant behavior. Production systems should have at least two nodes.

Collection:
A single logical index in its entirety, regardless of how many replicas or shards it has. One Solr node can serve multiple collections. (A single Sitecore site typically generates over a dozen Solr collections.)

Collections have names like sitecore-master-index.

Shard:
A logical subset of the documents in a collection. Shards let us divide a huge collection across multiple servers.

SearchStax clients don't usually subdivide their collections, so for practical purposes a "shard" and a "collection" are the same thing.

Best Practice: Use one shard!

Sharding multiplies the number of servers required to achieve high-availability/fault-tolerant behavior. Sharding greatly complicates backup and restore operations.

If your index can fit comfortably on one server, then use one shard. This is Solr's default behavior.

Core and Replica:
A complete physical index on a node. In a typical SearchStax collection, a "core" is the same thing as a "replica."

A core has a name like sitecore_master_index_shard1_replica_n2.

Best Practice: One replica per node!

To achieve high-availability/fault-tolerant behavior, every node of the cluster must have a replica of every collection. If some nodes are missing some replicas, there will be difficulties with backups and with Pulse monitoring of collections. A problem with a single node may take a collection out of service.

When you create the collection, set replicationFactor equal to the number of nodes in the cluster. Solr will automatically distribute the replicas to all nodes.