Creating a SearchStudio App
SearchStudio > Navigation Menu > Search App > Create
or
SearchStudio > Navigation Menu > Search App > Settings > +
---
A SearchStudio Application (Search App) records the history of searches, clicks, revenue, and searches per session over a period of time appropriate to your business. At a lower level, the Search App summarizes popular queries and critical metrics such as click-through rate, average click position, mean reciprocal rank, and frequency of no-results searches. It also records user feedback from your search page.
But first you have to collect the data. For that step, you need to integrate SearchStudio's Search Event API in your Client Application. Alternately, SearchStax provides UX Accelerators to help you frame a search page that makes full use of SearchStudio tools and features. Yet another alternative is to use the Sitecore Module or the Drupal Module, which provide a search page that is fully integrated with SearchStudio.
The first step on this path is to create a Search App for your project. From the SearchStudio Dashboard, go to the Navigation Menu. Click the Create button under Search App.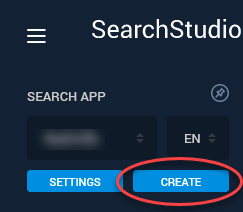 Alternately, you may begin on the Apps Management page and click the (+) icon.

Either path opens a modal dialog for defining the new App. The dialog lets you name the App, associate it with an existing Managed Solr deployment, and select a platform (Sitecore, Drupal, or a Custom App).
(See the Warning at the bottom of this page regarding IP Filtering and your selected deployment.)
This leads to a second dialog for setting up the App's unique API credentials.
These are two Solr Basic Auth accounts for SearchStudio to use. The accounts are used by SearchStudio behind the scenes, so you don't get to name them. View the names on the Search API Tab.
Read-Only API Credentials: This account lets SearchStudio send query requests to the Solr Deployment. It is automatically created with a "Read" role.
Read-Write Search Engine Credentials: The second account lets SearchStudio update Solr config files for synonyms, stopwords, and similar features. It is automatically created with a "Read, Write, Admin" role.
After creating the new App, focus returns to the Apps Management screen.
Note that a new Search App is simply an empty database. To be useful, it must record user actions from your company website over some significant period of time (days, weeks). There is about a one-hour delay before the first recorded data appears in SearchStudio.
Warning!
Warning: IP Filter and Basic Auth Security Settings
Components of the SearchStudio will run on many different client computers, so the Solr endpoint cannot be shielded by IP Filtering. Solr's IP Filter must be 0.0.0.0/0.
Therefore, SearchStudio enables Solr Basic Auth and creates two new Solr user accounts. Your SearchStax Admins will need Solr Basic Auth accounts of their own in order to connect to Solr.