Managed Solr Free Trial
---
SearchStax®, the leading Managed Solr platform, offers a "free trial" program for prospects. You can experiment with a cloud-based Solr deployment for up to two weeks, free of charge. No credit card is required for the duration of your free trial.
Managed Solr Trial Deployments
As a new SearchStax user, you may create one "free trial" deployment for evaluation. There are four free-trial deployments available:
Amazon Web Services, single-node (NDN2), 2 GB memory, 16 GB storage.
Amazon Web Services, two-node cluster (NDC4), 4 GB memory, 32 GB storage.
Microsoft Azure, single-node (NDN2), 2 GB memory, 16 GB storage.
Microsoft Azure, two-node cluster (NDC4), 4 GB memory, 32 GB storage.
It usually takes five minutes to set up a single-node deployment, and up to fifteen minutes to set up a cluster using AWS. For Azure, setup times can be longer. Feel free to explore our documentation and our Help Center while you wait.
Sign Up for Trial Account
To sign up for a SearchStax Managed Solr free trial, go to the SearchStax Free-Trial page. Fill in the enrollment form.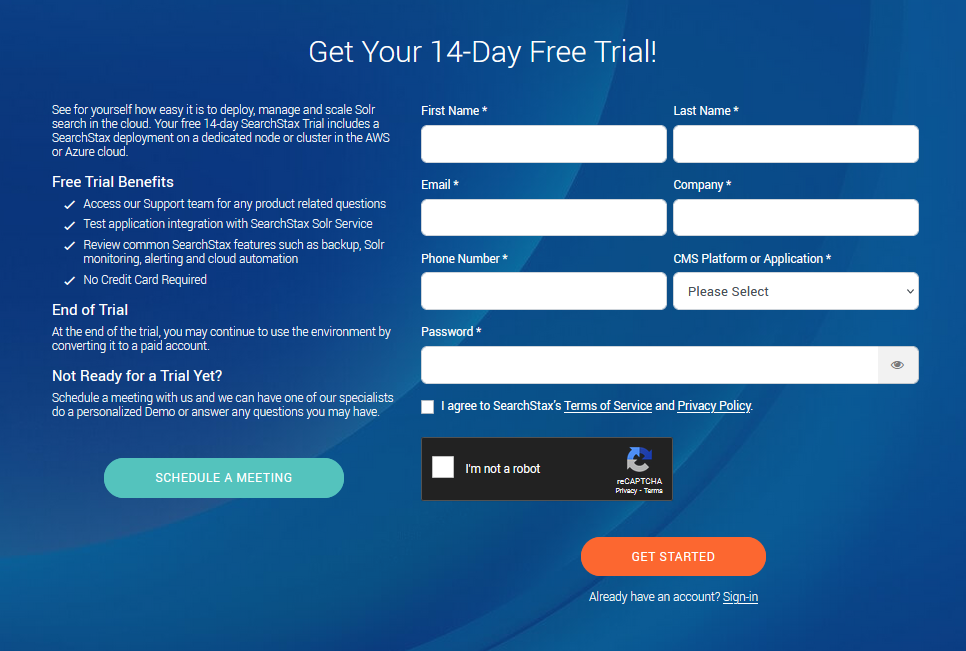 SearchStax will send you a confirmation message to verify your email address. You must click on a link before you can log in to your trial account.
Evaluate SearchStax Managed Solr
From the trial account, you may create one Solr deployment. Our Managed Solr Quick Start page presents instructions on setting up and provisioning your first cloud deployment.
Technical Support During Free Trial
We want you to succeed, so of course we offer support. See How to File a Support Request.
Become a SearchStax Customer!
Becoming a SearchStax customer is as easy as entering a credit-card number. On the SearchStax dashboard, go to the Billing and Payments tab.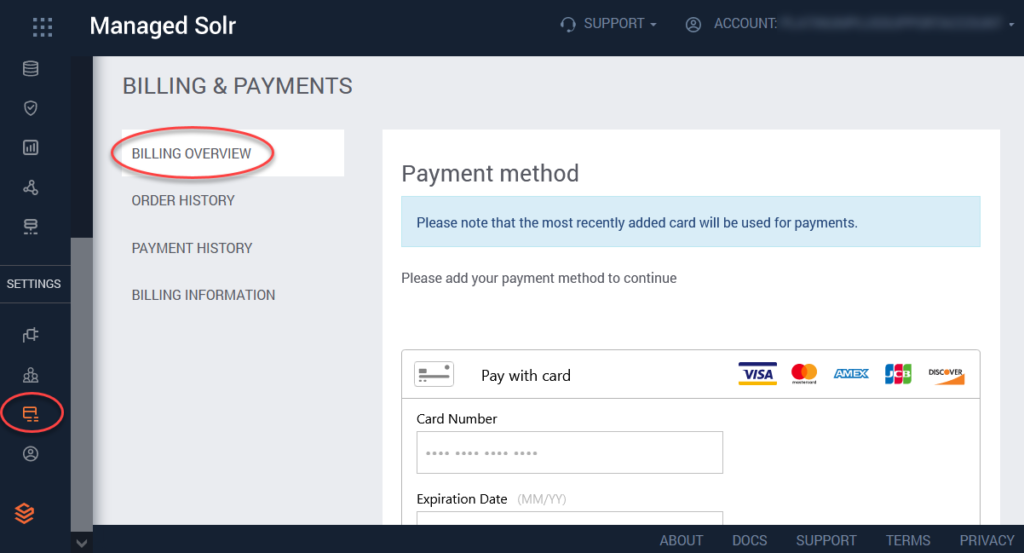 From the moment we receive your billing information, you become a SearchStax customer entitled to SILVER level support.
Cancelling the Free Trial
To cancel your free trial, navigate to the User Preferences tab of the SearchStax dashboard. Click the big red button.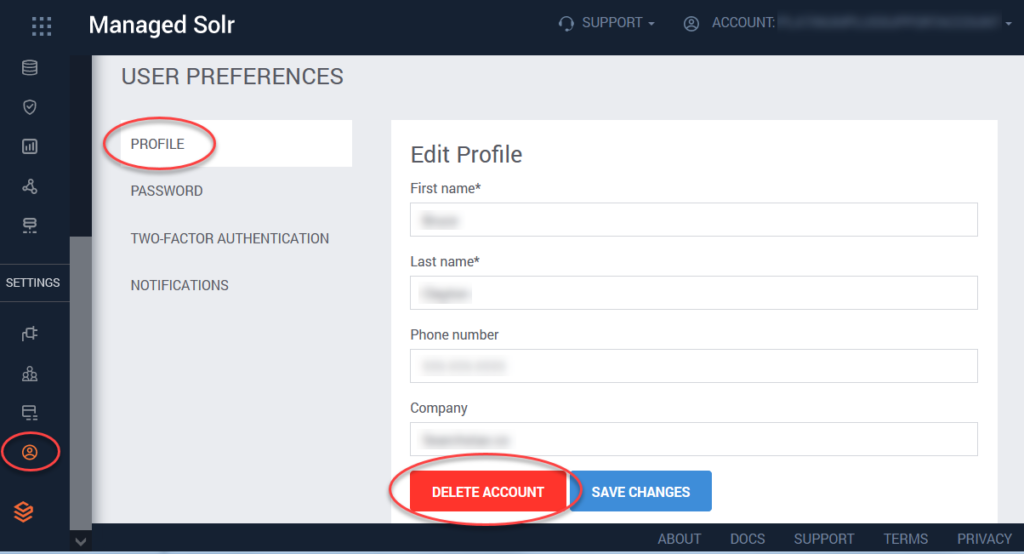 Deleted Deployments
When a Free Trial is cancelled or expires, the deployment and collections are automatically deleted. They cannot thereafter be restored by any means.
Billing Details
SearchStax's policies regarding free-trial billing are as follows:
If you let the 14 days run out, we close the account and delete the deployment automatically. You will not be billed.
If you cancel the free trial by deleting the account, you will not be billed.
For paying customers, billing begins at the moment you give us your credit-card number. You will not be billed for your "free trial" activities up to that moment.
Month-to-Month vs. Annual Commitment
The prices shown when creating a new deployment in SearchStax are the month-to-month self-service rates. Much lower rates apply to annual commitments, sometimes as much as 50% lower! See our detailed pricing web page.
Was this article helpful?