SearchStudio Free Trial
SearchStax offers a 14-day free trial of our SearchStudio product to our Sitecore and Drupal users, and to others who are curious about what SearchStudio offers.
Free Trial in Perspective
The SearchStudio Free Trial is most immediately rewarding for clients who use Solr to index their Sitecore or Drupal websites. These clients can create a SearchStudio App and immediately begin to index data, and record and analyze user search events. From there it is a short step to customizing the search experience around the behavior of your users.
The SearchStudio Free Trial is at its best when it has two types of data available:
A Solr index, such as for a Sitecore or Drupal document website.
User events recorded by a Search App, showing user actions while searching the Solr index. The sample hosted search app for each Search App by default records these user actions.
Architecture
SearchStudio is a point-and-click interface for managing the Search Experience of your company's website.
In the usual case, we connect a Sitecore (or Drupal) CMS to a SearchStax Managed Solr deployment.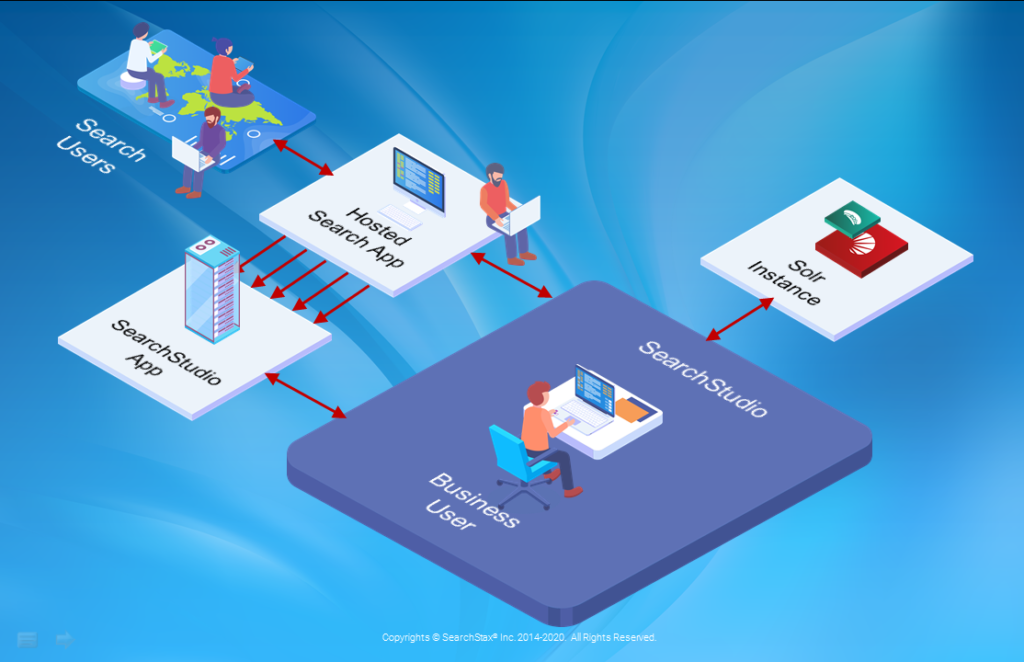 Using SearchStudio, we can connect to the indexed data, offer it to users immediately in a Hosted Search App web page, and begin to collect user events (clicks, feedback, search keywords, and more) in a dedicated Search App. These events are then fed back into SearchStudio, where a Business User can study user behavior and modify the system to deliver more focused and successful Search Experiences to the users.
At a later stage, your company's website developers can integrate SearchStudio with your own branded Client Application and Search Page.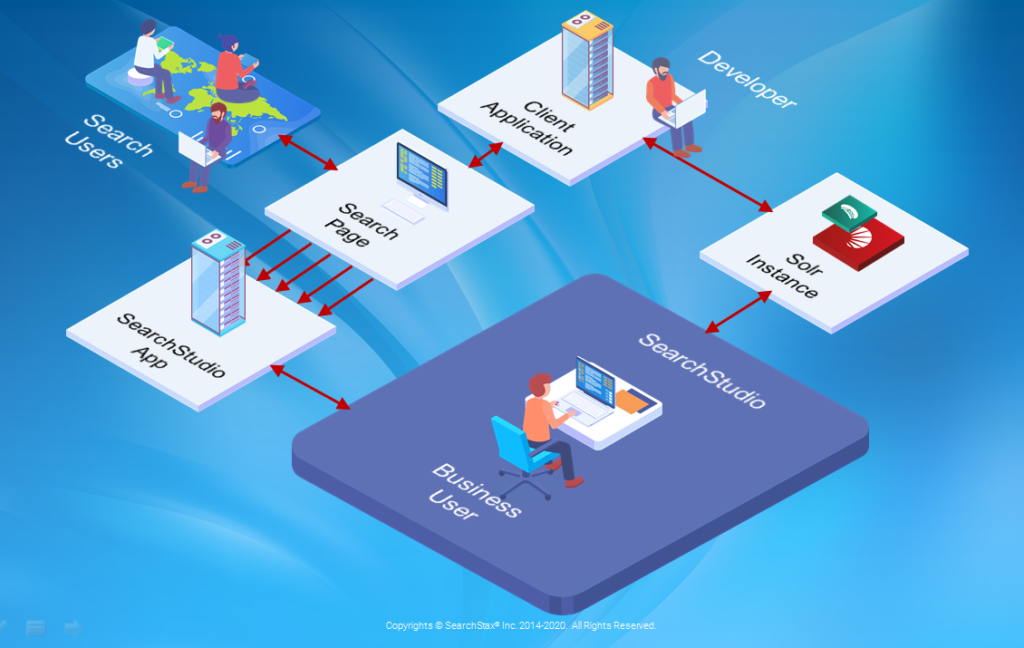 Note that you can create an empty SearchStudio free trial just to explore the UI and get an idea of what it offers, but the full experience requires a Solr project in the background.
Free Trial Sign-Up
To enroll in the Managed Solr Free Trial, proceed to https://searchstudio.searchstax.com/freetrial.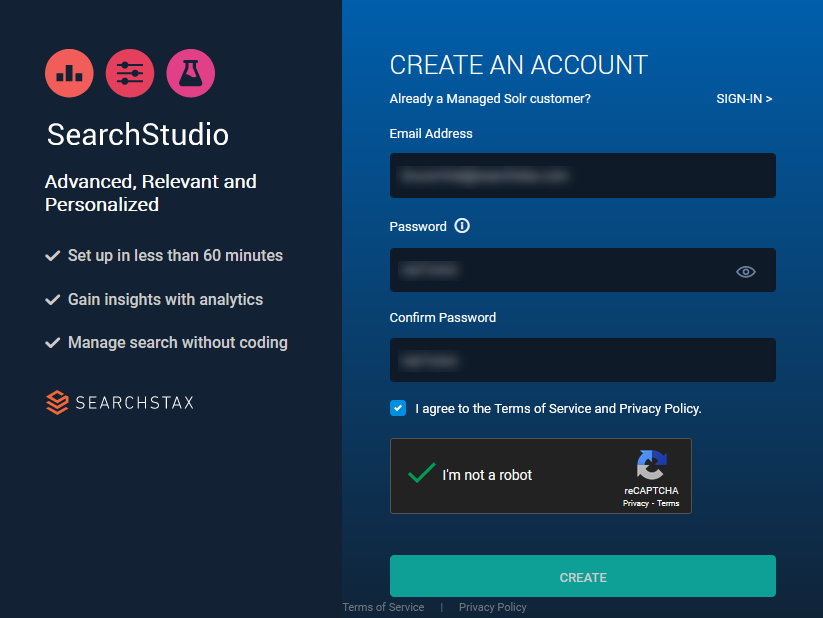 Note that new passwords must pass some stringent requirements.

In the next step, SearchStax will send you an activation email.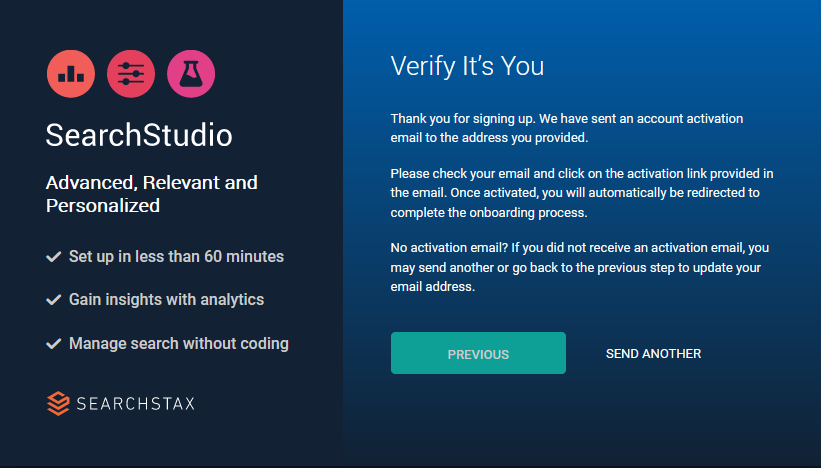 Click on the button (or the link) in the email to verify your identity.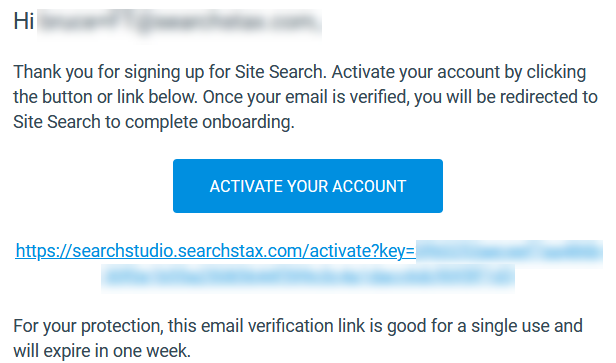 The link opens a new browser window (or tab) containing the standard SearchStudio login form. Enter you user name and password.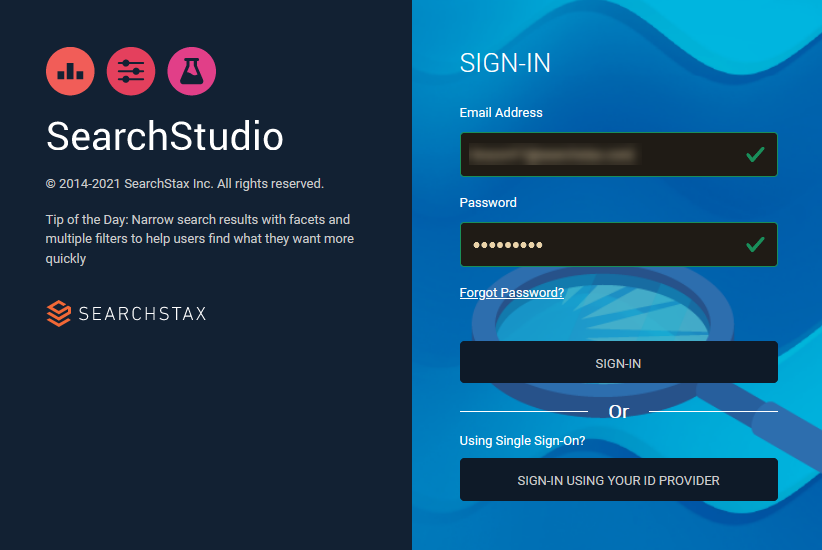 The next step is to enter your account contact information so we know how to reach you.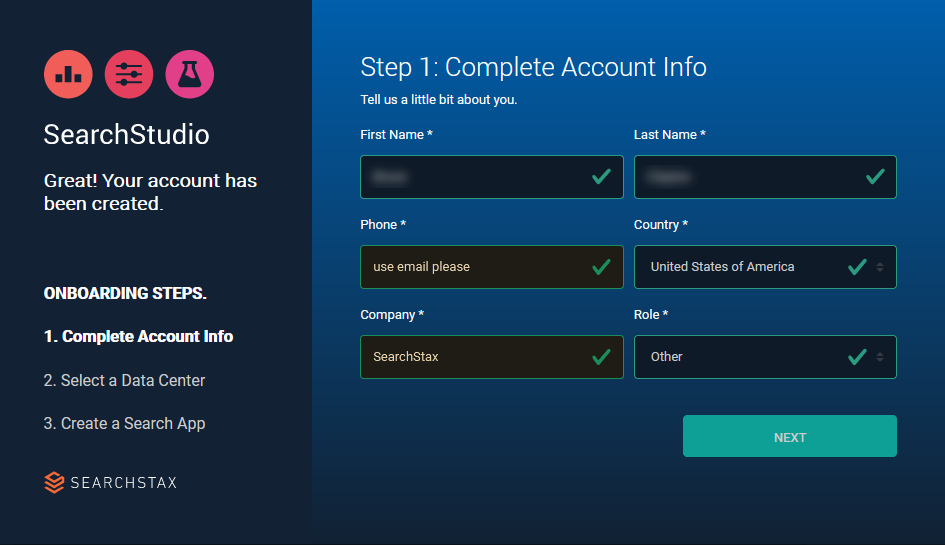 SearchStudio will create a Solr Cloud Deployment for its indexes. It is best to select a region that includes your application servers.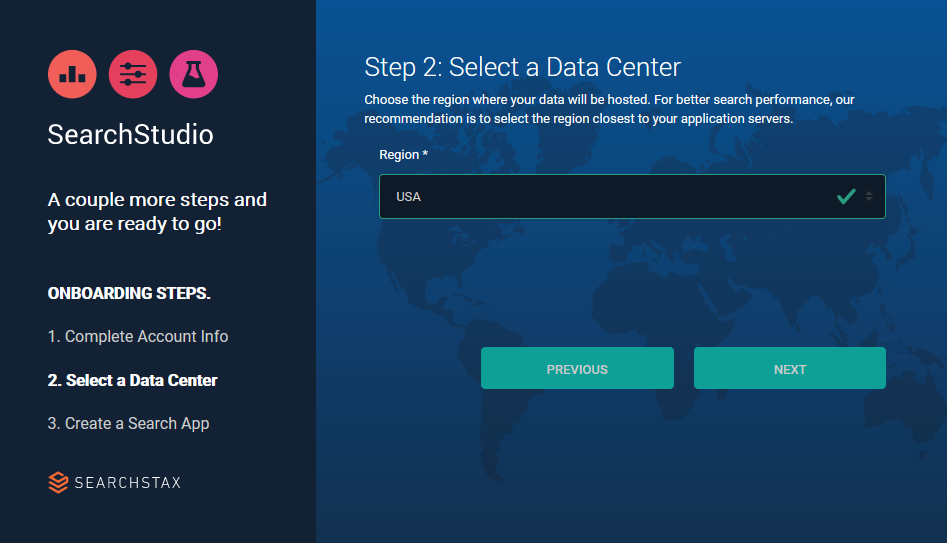 A Search App is a Solr index that will contain, at a minimum, a history of user search-page events such as queries, impression, facet selections, imprints, and click-through events.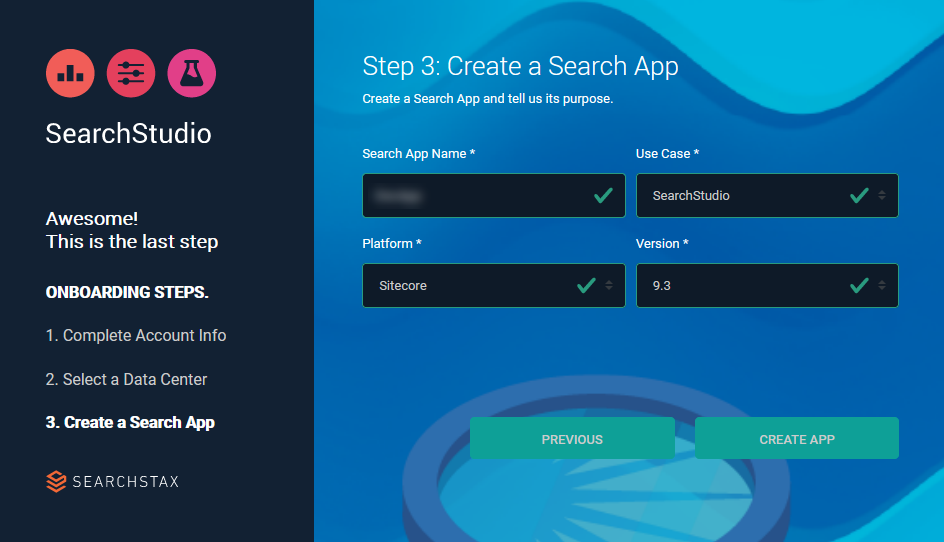 At this time, only the Sitecore and Drupal platforms are active. When you select a platform and version, SearchStudio can set up the proper schema fields in your SearchStudio App.
It takes about 30 minutes to provision your SearchStudio App. In the meantime, you can read about the follow-up steps outlined below. (Note that a SearchStudio Free Trial has a countdown timer in the upper margin.)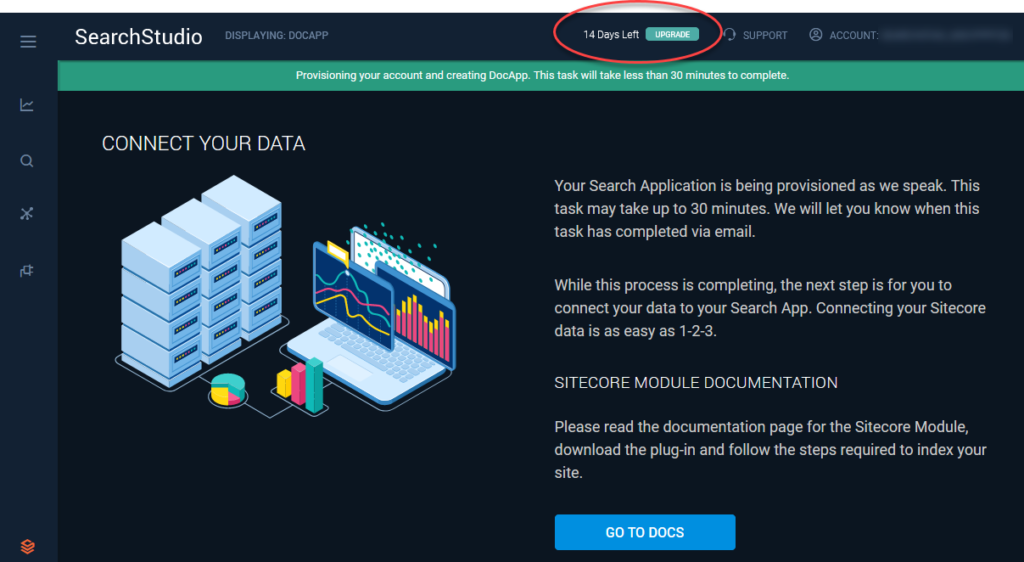 After about half an hour, this screen will update to show you the (empty) Dashboard of your new StudioApp.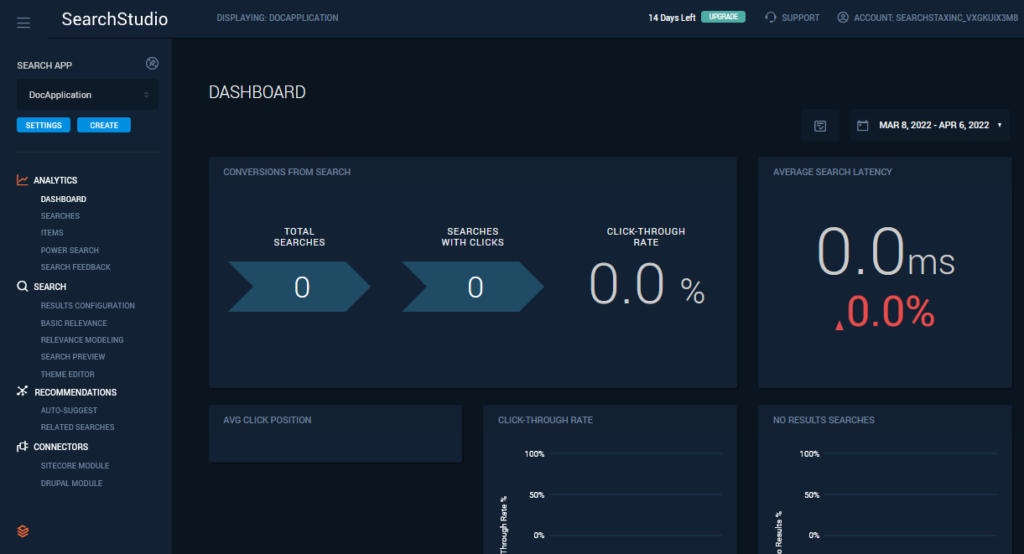 Integrate SearchStudio with your CMS
It is essential that you integrate SearchStudio into your CMS website using our integration modules for Sitecore or Drupal. This step lets you control exactly what part(s) of the site will be crawled for indexing, and it makes it easy to deploy a search page for collecting user events to analyze.
Please contact our Customer Success team for assistance with this step.
Checklist for a Successful Trial
To get full value from the trial, follow these steps to implement and use the SearchStudio:
Install Sitecore or Drupal Module and index data into the SearchStudio Index
Configure SearchStudio with Results, Facets, Stopwords, Synonyms, Spell Check, and Suggestions.
Set up your Search Page using our Hosted Search App, Theme Editor, and UX Accelerators.
Gain Insights with Search Analytics using Search Feedback, the Dashboard, Searches, Items, and Power Search.
Optimize search relevance with Ranking, Rules, and Promotions.
Upgrade to a Paid Subscription
To upgrade your Free Trial to a paid SearchStudio subscription, open the Account menu in the upper-right corner of the screen. Select the Subscription option.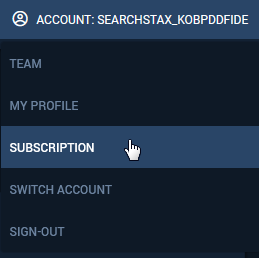 This opens the Subscription summary page, where SearchStudio presents the terms of your current subscription.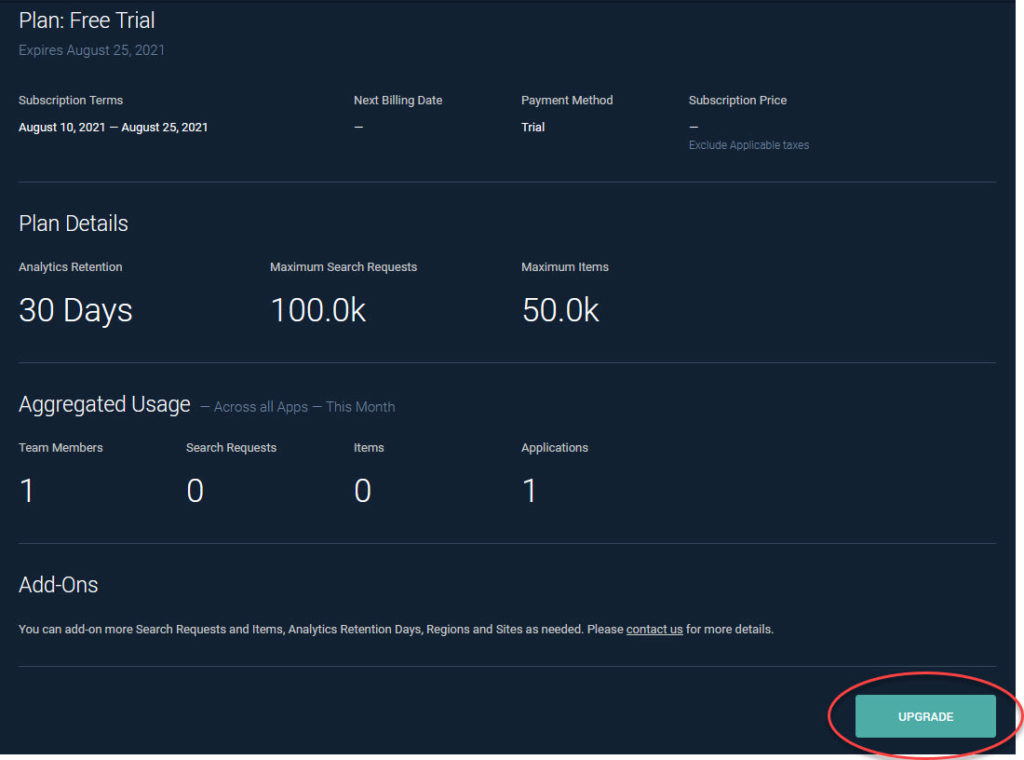 The Upgrade button will take you to the SearchStax pricing page, where you can enroll in a paid subscription.
Get in Touch with Us
Our Customer Success team will be in touch with you during the trial and will be sending emails with tips and links to help with your journey. If you have any questions, please reach out to us at customersuccess@searchstax.com.